Whether you're new to First Sun or new to using the employee assistance program, we make it easy. Our website and dedicated staff provide you with tools and resources so you can confidently and comfortably use our EAP to the best advantage.
View this short video and direct your employees and leadership to the Well-being and Training login for their orientations.
TAKE A TOUR

WELCOME TO THE FIRST SUN EAP FAMILY!
Implement your EAP services in three easy steps.
START UP — Your dedicated account manager will walk you through your features and benefits and work with you to create a customized implementation plan and ongoing promotional campaign.
PROMOTION — Use our EAP Reference Guide, which outlines best practices, to successfully promote your EAP. Regularly encourage your HR department, managers and employees to use this free, confidential support system with the help of our resources. Additionally, browse our website for more great ideas on how to save your company money, handle organizational issues and more.
MAINTENANCE — Use our monthly newsletters, free webinars, posters, and promotional flyers to remind employees and leaders of this rich benefit. As a matter of fact, you will receive reports reflecting your program utilization, and your dedicated account manager is always available for questions, support, and feedback. Additionally, we provide program reviews to touch base about the EAP, reflect on your goals, and discuss services we can provide.
WHAT'S IN YOUR PLAN?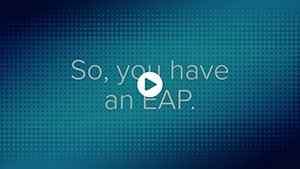 EAP 101 is a great way to learn about the full array of your new EAP services. Join the live webinar to get answers specific to your account.
TEAM UP WITH US
INTAKE TEAM — Our intake team can help your employees use their EAP resources to maintain a work-life balance. Also, remember to use the benefit for yourself for personal and professional development.
RISK MANAGEMENT TEAM — Call for unlimited consultations with our risk experts. Receive help with policy implementation, disruptive event management, high-risk situations, challenging employees, workplace referrals and any issue that may result in legal liability or loss of productivity and finances.
SOLUTIONS TEAM — Count on Solutions for all of your account management needs. Also, review utilization reports and implementation plans. Similarly, turn to our seasoned team to improve your company's effectiveness through organizational development and training.